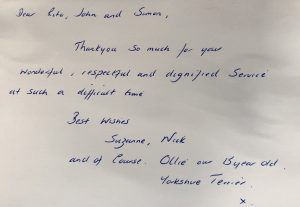 People often ask about the services we provide. It is a difficult question to answer because we try to provide everyone with an individual service that fits their own personal requirements.

For Ollie, the 15 year old Yorkshire Terrier we provided a cremation and his owners Suzanne and Nick requested a scatter tube.
Ruth brought her cat Billy to us. She viewed him in the chapel and we were able to provide a cutting of hair in a beautiful lace bag.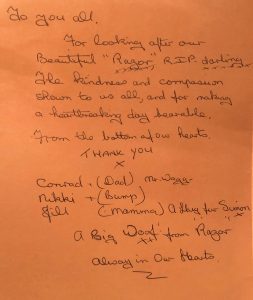 Razor, the Staffie, was collected from a vets in Hucknall. We lovingly prepared him for viewing by the family where he was surrounded by silk flowers. Background music by Ian Gomez, the resident pianist at The Ritz in London, played in the chapel.
The family sent in this wonderful tribute:
"In loving memory of Razor, a king among Staffies.
A loving, caring, faithful friend and companion, with a huge personality that shone like the brightest of stars.
He gave so much and asked so little.
He leaves behind Roxy and will be reunited with his little friend Riley".
They decided on a traditional dark wood casket with an engraved plaque.
We appreciate this is a very difficult time for everyone but we always do our best to provide the service you require for your beloved friends.