For added peace of mind we offer an attended pet cremation. This allows you to be present as your pet is gently placed into the chamber. You have the choice of saying goodbye to your pet in our Farewell Room. Alternatively you may accompany them to the cremation chamber. There is the option of either watching as they are placed into the chamber or simply being present.
Local area
You can stay in the local area whilst your pet's individual cremation takes place. Alternatively remain in our lounge or garden at Nottingham Pet Crematorium. We are able to provide you with information about the area. For example you may wish to go for a walk along the local canal or have something to eat. Once their ashes has been prepared you can take them home with you later the same day (normally within 2 to 4 hours).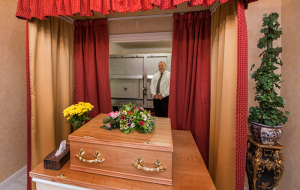 If you prefer we can collect your pet from your home or vet. You are welcome to say goodbye to them at Nottingham Pet Crematorium followed by the Attended Pet Cremation Service. The ashes will be prepared for you later the same day or, subject to availability, we will return their ashes to your home or vet.
This service not only means that your pet is looked after the same day allowing you to take their ashes home with you, but it can reduce the total cost of the service as collection/return charges can significantly increase the overall cost depending on where you live.
Attended Pet Cremation Services are not normally available from 4pm onwards Mon – Fri or from 11am on Saturdays. These services do not operate on Sundays/Bank Holidays. Please contact us for further details.
Please note the Attended Pet Cremation Service price needs to be added to our standard individual pet cremation charges. Please click here to go to our price list.